How to Fix a Chipped Windshield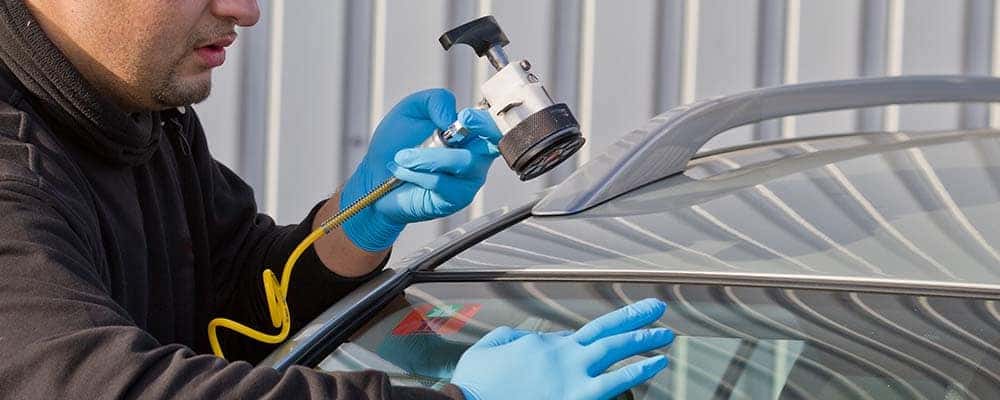 Getting a crack in your windshield is frustrating, but it's usually something that can be taken care of. Find out how with the team at Big Star Collision Center, your certified body shop near Houston. Follow this guide if you have a small chip in the windshield, or bring your car in for windshield repair at our location near Pearland if you're in need of professional help.
Our Steps for Fixing a Chipped or Cracked Windshield
Determine the Kind of Crack: If it's a "spider crack" and not a crack that goes all the way up the windshield, then it can be repaired.
Clean the Crack: Pour alcohol onto a microfiber towel and wipe the chip.
Remove Extra Glass: Use a small sharp object to remove any loose glass from the chip.
Use a Pedestal, Resin, and Syringe Kit to Fix the Chip: Follow the direction on a professional windshield chip repair kit to remove the spider crack from the windshield.
Windshield Repair FAQs
How Long Does it Take to Repair a Chip in a Windshield?
If you bring your vehicle into our shop to have an auto body technician repair your windshield, it shouldn't take more than around 30 minutes to an hour.
How Much Does it Cost to Fix a Chip in a Windshield?
The cost of windshield repair varies quite a bit depending on the kind of crack. If you simply have a small spider crack, it usually won't cost you more than $100 or $200. If it's a major repair, though, you could be looking at hundreds of dollars. If your windshield can't be repaired, replacing a windshield might cost you $1,000.
How Big of a Chip in a Windshield Can Be Fixed?
In general, windshield chips up to three inches long can be easily replaced by an auto body professional or experienced DIYer.
Get Professional Auto Body Repair Near Clear Lake
Looking for a good deal on auto body repair near League City? Big Star CJDR's Big Star Collision Center has you covered with everything from affordable dent repair to genuine MOPAR® parts. Get in touch to schedule anything from a windshield replacement to brake light repair! Also ask us about car repair financing.
---
More Service Tips
No matter how long your Houston commute, or if you drive a new or used vehicle, it's important to keep up with your vehicle's maintenance schedule. So what is your car maintenance schedule? This depends on the type of model you drive, how often you drive, and the terrain you typically frequent. Learn more about…

Clear Lake off-roaders know that for the best performance – and unbeatable styling – nothing beats a lifted RAM 1500. There are many ways to lift your truck – the right one will depend on how you plan to use it and your budget. Below we cover two of the most common types of lifts, and…

Getting a crack in your windshield is frustrating, but it's usually something that can be taken care of. Find out how with the team at Big Star Collision Center, your certified body shop near Houston. Follow this guide if you have a small chip in the windshield, or bring your car in for windshield repair…